Insight article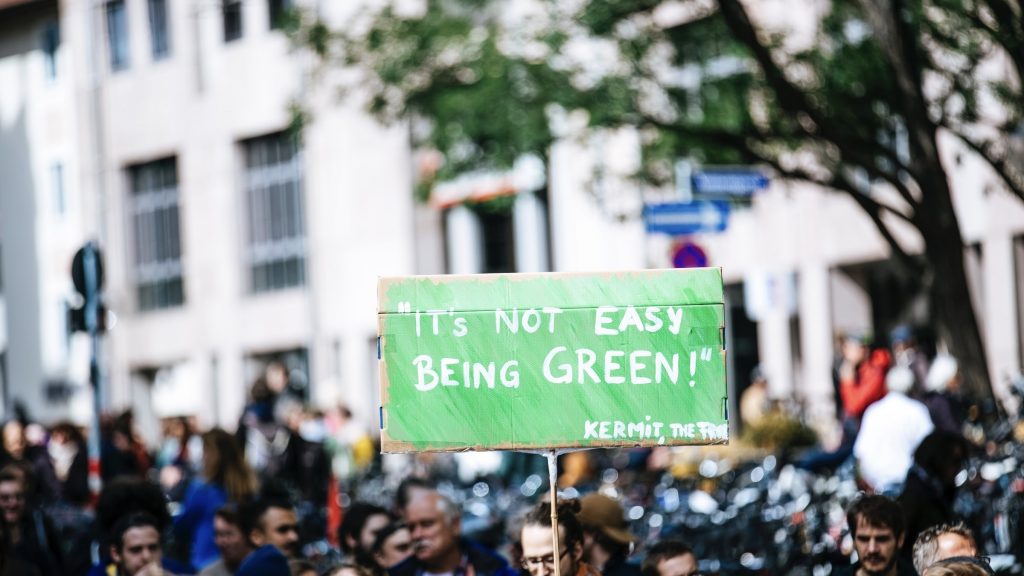 How the stories of climate change can inspire business transformation
Climate change as a social movement has transformed in recent years, compelling increasing numbers of individuals, communities, nations and governments to take action. Key to this success has been the creation and communication of stories that have won hearts and minds to drive change.
Stories – used in the right way – have the power to transform cultures. Within large businesses, a clear, compelling narrative helps your people to become more understanding and responsive to even the most complex of challenges.
As the early stories of climate change have demonstrated, business leaders shouldn't assume that by just focusing solely on the facts, it will be enough to bring people on your change journey. So what key lessons can we take away from the biggest stories at the heart of the climate crisis?
Evoking emotions has a long-lasting impact
If the story of your organisation connects people on an emotional level to your purpose, values and goals, it has the power to unite everyone behind your mission and motivate them to work in new ways.
In 2017, the second BBC 'Blue Planet' series continued to educate us on the wonders of the world's oceans. However, it was the penultimate episode which focused on pollution that would go on to establish its legacy. In 50 minutes, narrator David Attenborough – a master professional when it comes to the art of storytelling – dramatically changed the mindset of the millions who tuned in, by showing in graphic detail the impact that microplastics are having on the lives of the marine life.
It led us to rethink our reliance on single-use plastic and compelled governments to take action by introducing a plastic bag tax in many countries. Even today, for those who watched that episode, the guilt wrought every time we pay for a new plastic bag demonstrates the long-lasting impact an emotive story can have on us.
Don't dwell on the 'doom and gloom.' You need to complete the narrative
When there is too much focus on the challenge, people will remain reluctant to act without clarity on how it can be overcome. As we have previously experienced with climate change, when the narrative becomes too upsetting to follow, or the problem appears too great to solve, over time people will still disengage – regardless of its urgency or importance.
The groundbreaking TV documentary series 'Years of living dangerously,' first aired in 2014, provided poignant first-hand reports on those affected by climate change – from the damage wrought by Hurricane Sandy to the upheaval caused by drought in the Middle East. Series One was emotive; it educated millions and even won an EMMY, but it didn't open our eyes to the growing number of climate change solutions in development. The show's Executive producers also realised this, and to keep people engaged throughout the second series, they shifted the narrative from 'this is happening' to focus on 'this must happen next'.
In his latest book 'A Life on our Planet', Attenborough also shows us the impact of a complete narrative. It begins with his amazing backstory as a pioneer in television and natural history film-making, while witnessing first-hand the destruction of the natural world. It then explores the hard reality of what is likely to happen if we don't make radical changes. But crucially, in the final section, the narrative moves to a new 'vision,' as he outlines the journey we can all go on to save the planet and improve our lives. This rollercoaster structure of contrasting emotions not only makes the book a gripping read, but more importantly, it provides hope and invites people to play their part in collectively influencing the future.
Within a large organisation, establishing a complete narrative will motivate your people to pursue the best course of action to achieve your goals. In turn, sharing stories of successful outcomes then helps to build the belief that 'change is happening'.
The powerful are not always in positions of power
Having influencers or change champions who are prepared to 'spread the word' is essential to any cause. Working not from traditional positions of leadership, they have the ability to unite people because as they have already gained the trust of their followers or peers.
Those campaigning for action against climate change are predominantly not those in traditional positions of power. Accessible across a variety of platforms, social media, blogs or podcasts, these individuals convey a notion of real possibility to their audience. For example, whether or not you agree with the tactics and actions of Extinction Rebellion, its proponents are such a broad cross-section of society, they've proved highly effective in passing on their message.
Leaders have to role model change
Unlike David Attenborough, Greta Thunberg doesn't have decades of professional broadcasting experience, but what she does have is an instinctive understanding of how she and her actions can create a story that is arguably more impactful than any words.
As Thunberg shifted from the role of influencer to a leader in the global fight against climate change, she's been able to influence people – not through the stories she told, but the stories she has inspired others to create. From being the teenage influencer sitting outside the House of Parliament in Stockholm with her homemade banner to the trips she made back and forth across the Atlantic by sailing boat in order to speak to world leaders without having to leave a carbon footprint, her public life is a story. Yet her story has become a metaphor for how older generations are destroying the future for the young.
As a business leader, if you too are role modelling critical behaviours within your organisation, you will create stories that inspire others to follow your example. Storytelling will always be a fundamental trait of human behaviour. Use it to your advantage and it will help to navigate your organisation through even the greatest of change journeys.