Insight article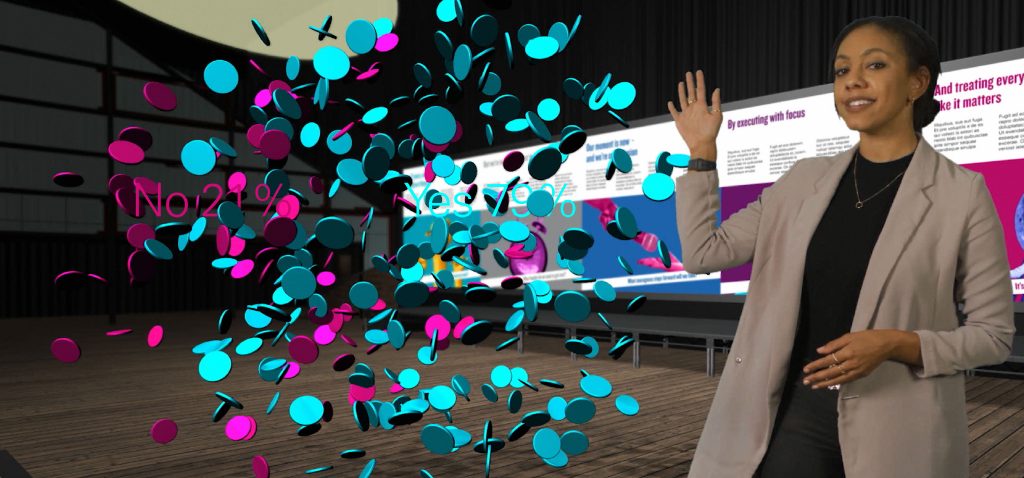 StoryLive: discover the power of a story-driven virtual event
StoryLive is our live virtual event solution. Using the latest innovations in virtual conferences, CGI, and interactive technology, we create an unrivalled level of emotional connection and immersion through our business storytelling programmes. Developed with organisations as a part of story-driven business transformation, the only limit to what can be achieved is imagination.
Virtual events have never been so necessary. In this time of social distancing, working remotely and heightened uncertainty, organisational connectivity is essential. Humans are social animals. Interacting as a group or a 'tribe' is a fundamental need we have for our sense of wellbeing, and to enable us to make sense of the world and what is going on around us. So events that bring people together – even if online – provide an opportunity to build a sense of community – a space for leaders to open themselves up to those around them and hear their colleagues' voices.
At The Storytellers, we have created and hosted virtual gatherings and experiences for our clients for many years now. We have long blended physical and virtual environments in corporate events, and inspired and engaged people on an emotional level through storytelling and narrative. Across our work with over 180 major organisations, we have discovered what makes a powerful and memorable virtual event.
StoryLive brings together our knowledge of putting on quality events with the endless possibilities of the virtual world.
There are three key components which make up any inspiring and memorable story-driven event. Discover more by downloading our ebook in full by completing the form on this page, and reach out to us if you need guidance and support in connecting your organisation through a virtual event. To arrange a demo with us, scroll to the bottom of this page and fill out the form and we will get in touch.
Arrange a StoryLive demo
Get in touch to experience our groundbreaking approach and innovative virtual platform
Contact us