Insight article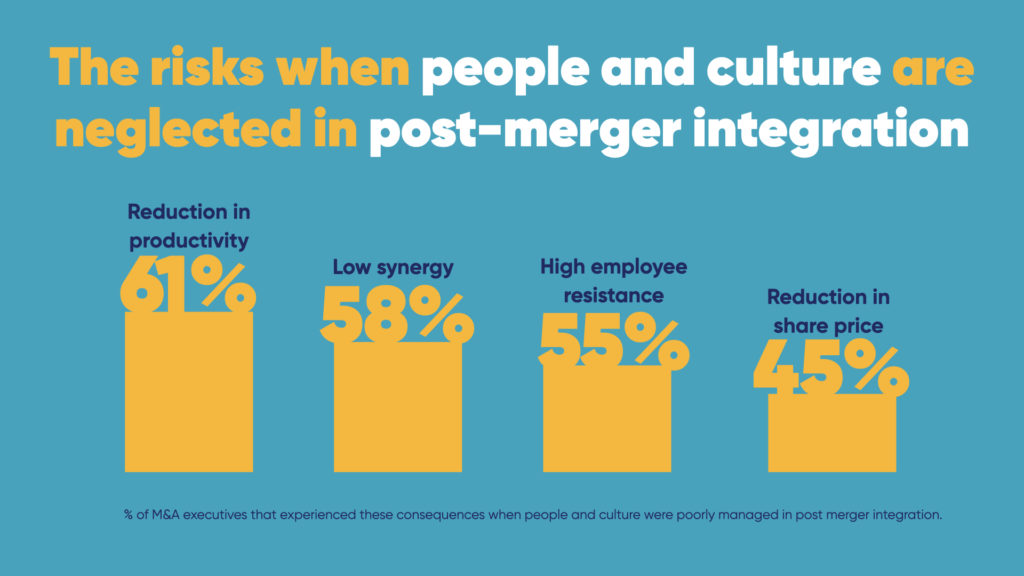 Why activating your people is critical for successful M&A
Organisations pursue mergers or acquisitions for a variety of reasons: entry into new markets, plays for innovation or new talent, and customer-base expansion to name a few. In the current turbulent environment, we see that many deals are focused on productivity rather than pure financial objectives. With that core objective in mind, the ability to rapidly activate the optimisation strategy is critical to M&A value creation.
Whatever their nature, our research with Mergermarket confirms that mergers and acquisitions are notoriously difficult to execute effectively. One of the common reasons for failure is that leaders underestimate the importance of – and focus too little on — the people and culture factors in the equation. This is even more heightened when the purpose is to achieve operating synergies, which can be put at risk through underperformance and talent attrition because employees are unclear on the role they play, fearful of change and in turn become demotivated, quietly quit or loudly leave.
Featuring insights from senior M&A executives at major global blue chips around the world, our eBook shares findings gathered through a survey of 100 senior executives.
Featuring:
Why people and culture matter in M&A, and what happens when they are neglected
How to build cultural alignment and engagement
Why resetting the narrative is key and insight into the story-driven methodology The Storytellers has successfully employed to activate employees in post-merger integration strategies
Complete the short form to immediately download your copy