Tuesday 23rd May

Agenda and Speakers
Fill in the form to watch on demand
1pm-1:45pm BST (8am-8:45 EDT)
What will mark out the organisations that thrive in our increasingly turbulent world? Strategies need to continually adapt to meet increasing expectations from customers, employees and stakeholders for authenticity, purpose, connection and innovation. Having a compelling purpose story is increasingly recognised as a primary success factor – and we will explain how the power of story shouldn't stop there. Embedding a story-driven approach to activate people and entire organisations accelerates change and unlocks extraordinary performance, creating the competitive advantage organisations need.
Co-founder and CEO of The Storytellers, Chris Spencer has worked with major bluechip companies all over the world for over 20 years to develop a story-driven approach that activates employees and entire organisations.  Chris established this pioneering approach after many years in music, TV and live events.
Hannah Moyo is Head of Consulting at The Storytellers, working directly with C-suites to tackle some of their most critical challenges.  With a strong background in transformation, human-centred change and technology, Hannah's background also includes senior consulting roles at Hewlett Packard and Cap Gemini.
2pm-2:45pm BST (9am-9:45 EDT)
Changing attitudes and belief systems, and winning hearts as well as minds, is one of the hardest aspects of organisational change to overcome. Yet a simple, inspiring story can have a dramatic effect on the way people think, feel, act and behave. In this session Alison will explore why people resist change, and what to do about it, how leaders can 'reset the narrative' in their organisation to inspire change and how to construct an emotionally compelling strategic narrative.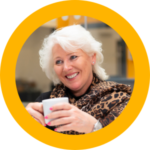 Alison Esse is Co-founder and Director at The Storytellers.  As a pioneer for storytelling in business, Alison has developed in-depth expertise in matters relating to storytelling, culture change, engagement and leadership. She is a regular speaker on the subject of storytelling as a key leadership skill, emotional connection and change.  With a strong background in communications, Alison is also a Founder Liveryman of the Company of Communicators.
3pm-3:45pm BST (10am-10:45 EDT)
Our panel of experts from the worlds of theatre and events, film, sound engineering and podcasts explain the potential of immersive experience, explore the cutting edge immersive approaches shaking up the industry and how to use them to inspire and rapidly activate people throughout organisations to make strategic vision a reality.
Creative Producer Lead at the Storytellers, Becky Brown works around the world delivering experiences and events for clients ranging from stadium takeovers for thousands of people, to live virtual productions and intimate workshops. Becky specialises in storytelling through experiences, brand activations and campaigns and large-scale events. Her portfolio includes projects for clients such as Amazon Prime, Boomtown Fair, ITV, EA Games, the National Theatre, Huawei, the Tower of London and more.
Jon Bentley is a consumate creative, storyteller, filmmaker and owner of Dream It Films.  Having worked on projects as diverse as the Bejing Olympics, to Boyzone and McFly concerts he has also developed a diverse range of animations and films for corporate clients around the world with The Storytellers.
Production and Innovation Lead at The Storytellers, Adam Sibbald draws on his background in the performing arts, podcasts, creative industries and experience with Historic Royal Palaces – The Tower of London and Kensington Palace – and Shakespeare's Globe to create and produce immersive digital, sound, virtual and live events and experiences.
This session will be facilitated by Karen Marschner, a Consultant at The Storytellers who brings expertise in organisational behaviour when working in partnership with complex organisations to activate their people and strategy.
4pm-4:45pm BST (11am-11:45 EDT)
There's a reason why 70% of change initiatives fail to realise their original objectives. It's the human side of strategy and change that time and again is the determining factor. Successfully activating organisations and creating movements of change is not easy. But with the right conditions in place it can be achieved. In this session we will share the framework of nine key drivers you can use to assess and establish what needs to be in place to activate your people in the journey you are on.
Hannah Moyo
is Head of Consulting at The Storytellers, working directly with C-suites to tackle some of their most critical challenges.  With a strong background in transformation, human-centred change and technology, Hannah's background also includes senior consulting roles at Hewlett Packard and Cap Gemini.
Co-founder and Director at The Storytellers, Marcus Hayes has worked with CEOs and Executive teams at over 100 organisations, taking him around the world from Istanbul to Santiago, advising them on their strategic narrative and accelerating change across their organisations.
5pm-5:45pm BST (12noon-12:45 EDT)
Sharing the approach for developing a compelling strategic narrative and the pitfalls to avoid, Kate will explain how the art and science of storytelling not only utilises the power of the written word. Through telling, sharing and interpreting stories the true emotive and activation effect is unlocked, and this session will explore some of the best techniques to achieve this.
Kate Davies
is a highly experienced strategic writer, working with major blue-chip companies around the world. Having previously worked for Dunn & Bradstreet as a political economist and employee engagement leader, Kate has also set up and runs a bookshop – Adventure into Books – in Blairgowrie, Perthshire.
Marie-Shireen Hadid, Senior Consultant at The Storytellers, works closely with Kate to activate organisations using powerful narrative techniques and will be joining Kate in this session.  Marie-Shireen is interested in figuring out what makes people tick, one story at a time, her background includes transformation, people and behaviour change consulting with KPMG.

Complete the short form to access all on-demand content