Insight article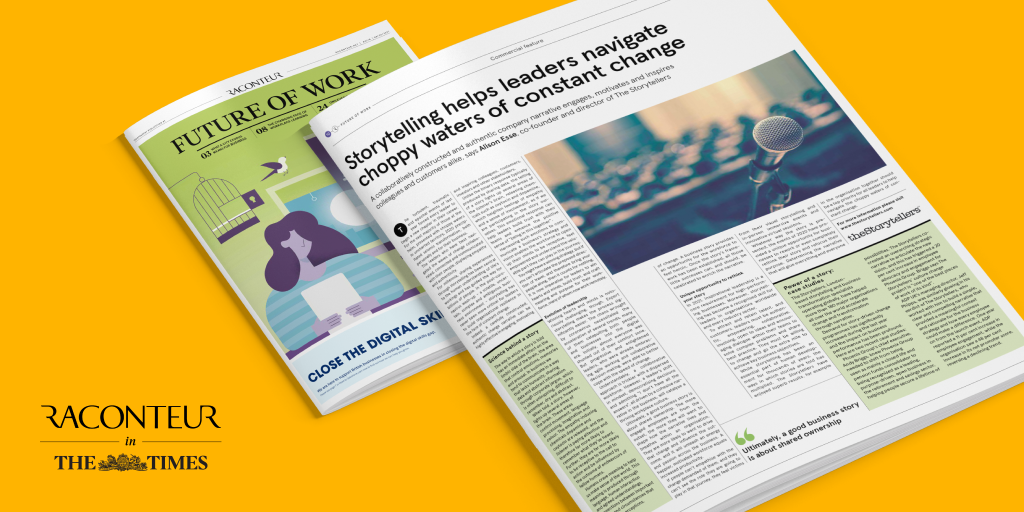 Storytelling helps leaders navigate choppy waters
In our article, featured in The Times Future of Work supplement, we explain how inspirational leadership is a core requirement for high-performing businesses in 2021. Moreover, storytelling has become a recognised skill for leaders in organisations worldwide and every industry sector. To attract and retain talent – and indeed customers – leaders need to be authentic, empowering, collaborative, involving, open to ideas and encouraging dialogue within their teams to solve complex problems and share best practice.
In short, a business's differentiator comes down to its people: how they personify the brand through their actions and behaviours, how this builds corporate trust, customer acquisition and loyalty.
And for leaders to win over their people – to bring them with them on a journey of uncertainty and change – they need to win hearts and minds; create meaning and purpose in the workplace. It's not enough to connect people rationally to change. Leaders need to create an emotional connection in order to stimulate the energy and collective spirit needed to power their teams through challenging times, where change is embraced rather than seen as a threat. And yet winning hearts and minds is without doubt one of the hardest parts of change to achieve.
What draws us to a story, and how exactly does it influence how we think, feel and act?
To read more out more about how the power and influence of storytelling can accelerate change and transform performance, and to get access to the full Raconteur Future of Work supplement published in The Times, fill in the form on this page.